I'm very pleased to have found a whole new set of arty, local friends in the group that's informally known as the Southfields Artists. We're getting together this time to exhibit at a pop-up art fair at the Gardens Tennis Club in Southfields on March 31st from 12-6pm.
Following on from the success of the WAOH (Wandsworth Artists Open House) in October 2018, this one-off, one-afternoon pop-up art fair features around twenty local artists. The event is supported by the German Car Company in Kimber Road. We hope very much to see you there.
For my part, I'll be exhibiting some new etchings, lino prints and a couple of paintings. I'll also have lots of postcards, greeting cards, fridge magnets and a few espresso cups available. These were really popular at the WAOH.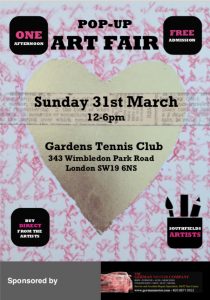 The others in the group will speak for themselves, but there will be everything from hand-made jewellery, paintings, photographs and sculptures on offer.
Do come along and support your local artists. Admission is free.