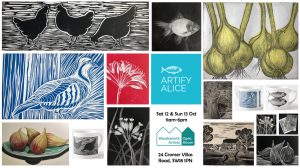 WAOH is happening again. Soon.
What's Wandsworth Artists Open House all about?
To anyone unfamiliar with the format, over the course of two weekends in October, artists of all kinds – amateurs, professionals, fine artists, crafters, ceramicists, painters, print-makers, jewellery makers – open their houses or studios to anyone who wants to come in and take a look. And maybe buy. Open House events run across the whole country, but the Wandsworth event is supported by the council and is particularly well organised.
What's so surprising is that there are so many artists living in our midst. I'm one of about 25 artists in Southfields alone. I participated for the first time last year and loved it. Definitely falling into the category of amateur artist, I'd never exhibited officially before. But I had a lot of visitors and sold a lot more than I expected to.
This year will be different, not least because I'm only opening for the second weekend (12/13 October). I also can't count on the support of friends and family this year.
The Wandsworth Artists Open House trail structure has been changed this year. I believe I'm on the Southfields/Wandsworth Town trail. Venue number 37.
Fred Morgan – a guest artist at my Open House this year
Fred's my eldest son. He's taught himself lino printing (maybe with a little help from me) and the results are, I think, super. So I asked him to show off some of his work too. Here are one of two. Good aren't they!
So, what makes me tick?
I love finding visual interest in the things that surround us in our lives: onions, garlic, chillis and figs in my kitchen, fish from the market. It's no accident that most of the works I've sold have ended up on kitchen walls because food is definitely a feature. I'm also very inspired by the wild flowers I see on country walks in Normandy and the cowslips and wild fennel I snapped with my phone have been a big thing for me this year.
I like to simplify what I see into stylised forms that lend themselves to the sort of printmaking I do. People have been kind enough to say that I have an eye for composition, which – if true – certainly helps to support the overall visual impact.
Do come along on and have a look at what Fred and I have been up to. Not only are our works for sale, we also have a selection of cards, mugs and espresso cups for sale, too.
See you then!