Sunflowers
I painted this picture of sunflowers using gouache paints on MDF in the summer of 2015, after I had been to my friend Sandra's 40th birthday party in Frankfurt. I was responsible for the table decorations, so went out and bought a whole load of sunflowers, which I set in jam jars around the house. They were so fun-looking, I took loads of pictures of them with my phone and – pretty much as soon as I got back – I created this painting.
I like painting on MDF because there is absolutely no give. It's easy to draw on a hard surface like this and the paint seems to take well to the surface. I also like the way my pencil lines take to the surface. You can either screw hooks into the reverse side of the board, use a box frame or – cheapest of all – just rest the picture on a mantlepiece or shelf. Very informal art!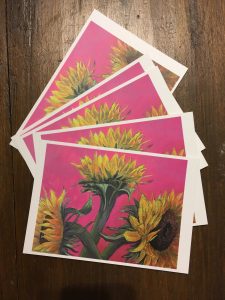 I sold the painting itself at the Wandsworth Artists Open House weekend in October 2018, but I have postcards and greetings cards of it available.