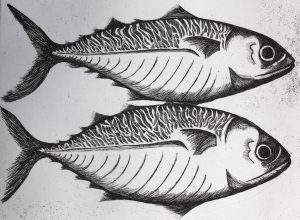 I started this mackerel etching and aquatint in October 2017. I'm aware that the shapes of these fish aren't zoologically accurate, but the markings on the skin presented me with an ideal opportunity because I love pattern and I love to stylise.
Because this turned out so well, it's still my most successful and rewarding etching and I've now sold my entire edition, keeping only a few proofs back for myself.
Mackerel designs on other things
It also lends well to other applications and it's been really popular as a phone cover, on place mats and coasters, espresso cups, mugs  and more. Follow the links, which will take you to Zazzle or Zippi, the people who make these items. I get a small commission from every sale.
If you're interested in giclée prints, greetings cards, postcards or place mats, get in touch with me.