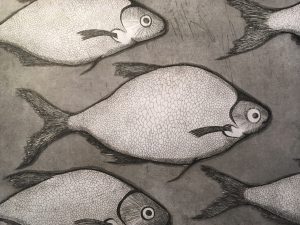 "Sea Bass" – 2015
Of all the etchings I've done, people seem to like "Sea Bass" most of all. It's actually quite a large etching, measuring roughly 25cm wide by 18 cm high and it's  my second fish-inspired work. My sketch book is fully of drawings and print-outs of images and patterns featuring fish which I found online. They are really beautiful and lend themselves to the stylised sort of decorative art I like to produce.
Faced with such a large plate, I was – at the start – very nervous about drawing the first lines through the bitumen wax coating. This coating is called the "ground". But – once I got going – I managed to draw the outlines of the sea bass quite quickly. The darker lines you see in the piece are the first ones that were etched in the acid. I continued adding detail – quite painstaking detail as you can hopefully see – until I was happy with it. The lighter lines in the scales were added last. With etching, you always work from dark to light.
Aquatint background
The final thing I did was to add an aquatint background. This was also very time-consuming because I had to "stop out" everything I had done to date, just exposing the background to the aquatint process. I wasn't totally accurate with this, but decided – as many etchers do – to make a virtue of my mistake, which looks like additional shadows around each of the fish. A happy mishap in my view and the aquatint background – I think anyway – works to bring the whole piece together.
I have sold or given away the whole etching edition – one has even gone to a collector in Singapore – but I am able to make another edition of glicée prints on Somerset paper. These look terrific in floating frames. I have completely sold this edition, but I do have postcards and greetings cards available in sets of five or ten cards with envelopes. And postcards of my assorted etchings.