Acrylic paintings on MDF
Fitzer and Wildstrubel – Adelboden 2003
I discovered how lovely it is to paint with acrylics on MDF way back in 2003. We were living in Switzerland. The first winter we were there, I managed to break my ankle badly. With nothing else to do on family ski trips, I turned to my sketch book and painted whatever I saw out of hotel or cafe windows. I did this in very small scale in gouache.
The next winter, this time recovering from pneumonia (after shovelling snow for too long) I was stuck in the house. Feeling better (and bored), I remembered we had a large piece of MDF which we'd bought for the boys to set their toy train tracks on. As it wasn't quite big enough for this task, it was just lying around in the cellar… The rest is history. That piece of MDF has been on the wall of our kitchen/dining room now for over ten years. And it kick-started my love of painting with either gouache (seems to suit smaller boards) or acrylic on MDF.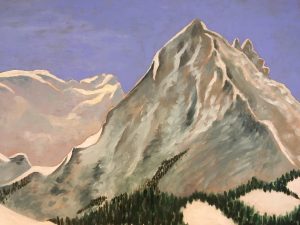 Orchids – 2008
I painted the orchids in about 2008 in homage to an orchid plant which I had bought from IKEA in 2002, when we first arrived in Switzerland. The plant survived four house moves in five years and kept on producing flowers, living on well past its expected lifespan. When I saw it was giving its last burst of flowers, I decided to immortalise it!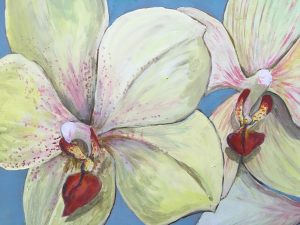 Hochgürgl – 2008