Gouache painting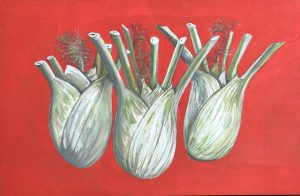 It took me some time to get my creative mojo going during lockdown. I had been too busy cleaning out cupboards, bleaching grouting in the shower, weeding the garden and, let's face it, drinking too much wine with friends on Zoom – in a sense I was almost procrastinating because I felt the pressure to do something artistic, but didn't feel the muse.
Then I went out to get some food for a special birthday dinner and I saw these three fennel sitting on the counter. Their stalks cut off, little bits of frondy foliage poking out. They were charming, sitting in a row, just waiting to be painted. And then roasted.
I started with a few drawings in my sketch book – these are more for etchings and lino prints I want to make – before repurposing a piece of MDF I had left over from a shelving project. I used gouache because it's so nice to work within layers and also because it makes it easy to place flat, consistent colour where you want it, in my case this was of course on the background.
When I posted this image on Instagram, I got a lot of favourable responses, so I think I'll make some postcards of it in due course.